documenting life being lived. simple.

Lifestyle | Documentary | Vacation: Baby, Child, & Family Photography
What if a photo session could feel as relaxed and natural as an ordinary day, free from the pressure to perform or the expectation for perfection? What if the process felt easy-going and comfortable?
My documentary photography sessions go well beyond a typical portrait session. It is my intention to artfully capture your family as you actually are... to give you visual reminders of the love and beauty that is always present, even on the most imperfect of days. I want to help you slow down time.
By creating a peaceful space for you and your children to simply be, I'll document those "slice of life" moments that make your heart melt on the daily. Those genuine moments that cannot be forced or performed on cue.. the ones that really matter.
15 years from now, when your children are grown, imagine having a collection of beautifully printed archival photographs that pull you straight back to the feeling of these days.
What if the ordinary moments of today proved to be quite extraordinary?
As a parent, I know that "busy" doesn't even begin to describe it. Let's keep it simple, but let's also make it meaningful.
I've worked tirelessly to refine a simple, streamlined, and personalized process. By limiting my schedule, you'll receive my guidance, commitment, and expertise from start to finish.
1) The Prep
With a simple brainstorm and a thoughtful conversation, we'll plan an experience to remember. Whether it's a favorite afternoon hike, a vacation day at your beloved Lake Michigan cottage, or day in the life moments at home, I'll help you discover which aspects of your family's life you would most love to capture.
2) The Shoot
Forget the dishes and your to-do list, let's think of our time together as a relaxed vacation day. Get lost in your child's laughter and the way your sleeping baby makes your heart skip. Sneak a few hugs with your partner and revel in the little things. I'll just happen to be there, giving you space and time to just be.
3) The Final Product
After your session, the design & ordering process will be as simple or as custom as your heart desires. A custom design consult (via phone/email) will help you identify your vision and bring it to life. Picture this: you'll be able to view mock ups of your actual images on your actual wall spaces TO SCALE without ever leaving your home.
All sessions include Digital & Tangible Photographs for a complete collection or simply a starting point. Whether through a series of thoughtfully curated Gallery Matted Giclée Prints or a Nostalgic Fine Art Book, your story will be beautifully preserved.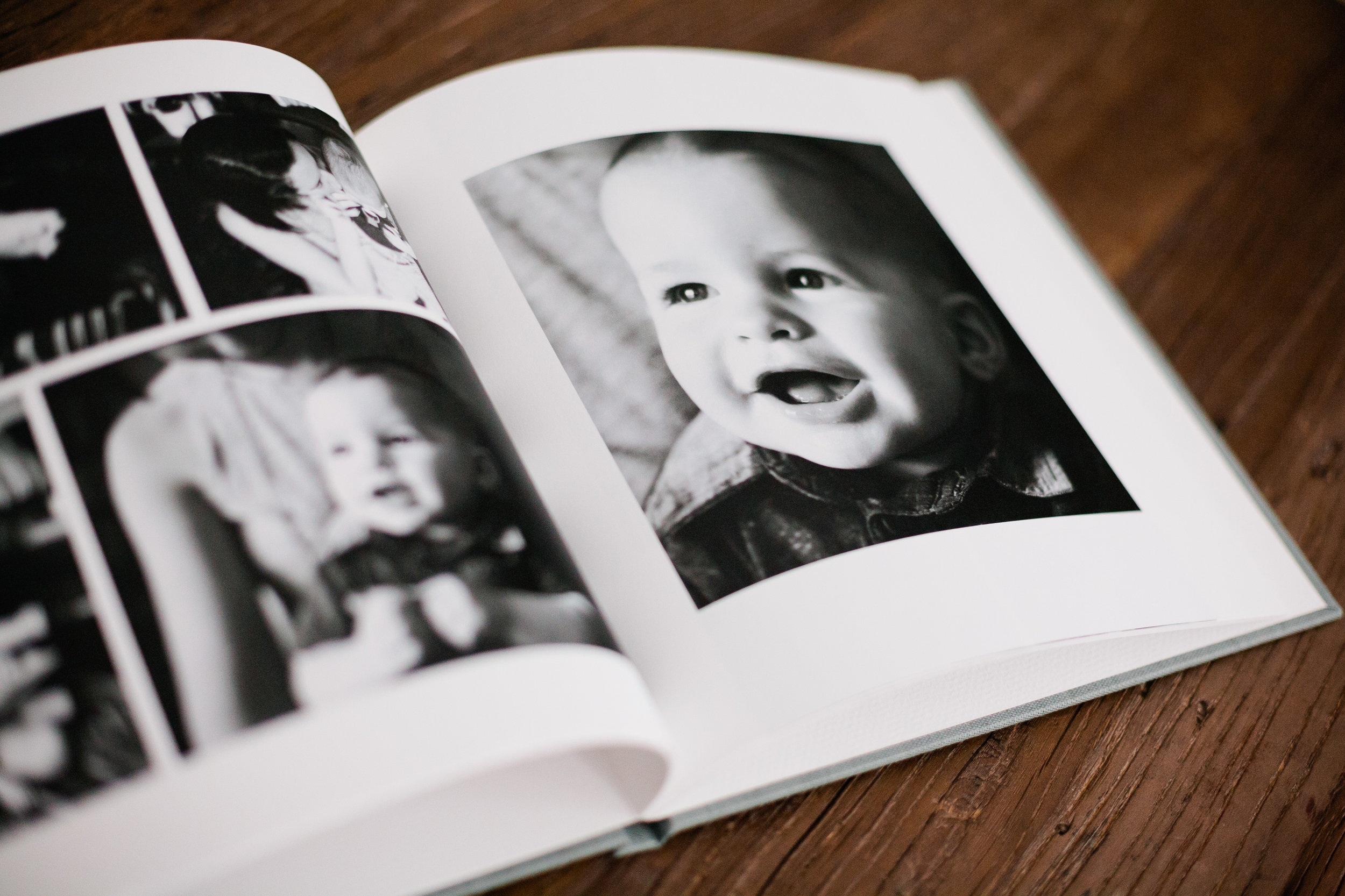 Why Tangible Photographs?
When our time is through, I want you to be thrilled with a thoughtfully designed, highly professional final product that you couldn't acquire on your own. Real, printed photographs will bring you joy on the daily and will tell your story for generations. Because we won't be passing down obsolete flash drives to our children in 20 years and it breaks my heart to imagine how many memories will be lost in this digital generation. Photographs are priceless.
Your future self (and future grandkids) will thank you. I promise you that.
Please drop me a line with questions or for more info - I'd love to chat with you!
frequently asked questions
+ I always feel nervous around a camera and really do not like being photographed. Any suggestions?
I hear this frequently and even feel it myself. Having your photograph taken can be a vulnerable experience. I totally get it.
We will work together to thoughtfully plan a session that feels natural for you and your children, so the focus will be placed on the experience itself rather than performing for a camera. I'll just happen to be there, as a trusted friend, blending in and out of the background.
It might take a little trust, courage, and letting go, but I hope you'll allow me to photograph the beauty in you that your friends and family see everyday. We are more beautiful than we think.
+ Your portfolio seems to be filled with such ideal situations. What if my kids do not behave perfectly? What if my house is not photogenic? How do I know when it's the right time?
In my 10 years of photographing children and families, I can honestly say that there has never been a truly ideal situation or the absolute right time. I love that, because I've also learned to trust that it always works out, regardless. Life is inherently and authentically beautiful in all of its imperfections.
Facts: Kids will be kids. There is a good chance for meltdowns and a little crazy. We'll take our time and remain flexible. The weather might not be a perfect 72. We'll layer up. Maybe your living room is feeling like a cross between FAO Schwartz and a tornado zone. We'll tidy up or let it be. Easy.
It's ok to bring it to me real. The best moments actually happen when we least expect, when we've let go. (Read more about my own experience with letting go of perfection.)
+ Do you travel to locations outside of Grand Rapids, Michigan?
Yes, I love to travel! I have photographed destination family beach vacations in La Jolla, CA and Hilton Head Island, SC, "day in the life" photography sessions in Chicago and NYC, and worked with long-time clients in LA and San Francisco.
I am also beyond grateful to have the pristine beaches and quaint vacation towns along the coast of Lake Michigan in my backyard. Summer weekend getaways in Northern Michigan: from Frankfort (near the Platte River and Crystal Lake) to Traverse City (near the Sleeping Bear Dunes) to Lake Charlevoix are great opportunities for special photography sessions.
If you have a session idea that involves travel, near or far, please do not hesitate to drop me a line. The sky's the limit!
*Travel fees are based on several factors and may be divided between clients within a similar locale/timeframe. Please inquire for a custom quote. Photography sessions at the local beaches of Saugatuck, Grand Haven, and Holland do not require a travel fee.
Upcoming Tentative Travel Plans:
(Please inquire anytime to be placed on my list for upcoming CA sessions.)
+ Do you offer digital files?
Yes, however, digital files will always be accompanied by a tangible print that you can hold in your hands and pass down for generations. You will be so happy that you have real printed photographs, in addition to digital files - trust me on this one.
I could write endlessly on the topic, but if you are feeling that you want ONLY digital files from your professional photography investment, I highly recommend this article on Today.com that sums up why tangible prints are so important. If you don't have time for the article. Two words to ponder - Floppy Discs. ;)
+ Do you have experience with photographing children with special needs?
I have a special place in my heart for kids with special needs. I've photographed several children with special needs (from autism to down Syndrome to Cornelia de Lange syndrome), as well as children in foster care who have experienced emotional struggles.
These sessions have been some of my most fulfilling, as it's an amazing feeling to give such a gift to parents who struggle to capture their children the way they see them in their heart. I'm told pretty often that I am exceptionally patient, so you can rest assured that I will allow the time and space for natural moments to unfold, without pressure.
kind words
"In addition to your beautiful work, you just bring an amazing ease and calm energy to your sessions. It does wonders to capture children just being themselves. I know that years from now I will be able to look at these and remember what joy our Maisy brought to us at this moment in time… You capture my children the way my heart sees them." – Jennie, San Francisco, CA
"In light of all the world's incredibly hard issues, these have more than taken my breath away, they have brought me to heaven. Thank you from the bottom of my heart! – Kim, Grand Rapids, MI
"I can't thank you enough for your beautiful work. I never even imagined it would turn out like this. I have very few pictures of myself because I'm very self-critical (who isn't?) So, to have pictures of my family and me is priceless. We are very grateful." – Lisa, Los Angeles, CA
"In almost every area of our house, I can glimpse one of our beautiful pictures. As I sit nursing C to sleep, I am gazing across the hall at a 6-month picture of G. And it all just makes life feel complete. Each picture evokes emotions and memories from that phase in life and I just love it." – Mandy, Grand Rapids, MI
"Bottom line -- I think the photos you've taken over the last few years are my MOST cherished family treasures." – Alexis, Los Angeles, CA
"You created astounding photos that captured our family as we really are. Your warm and genuine way put us at ease and made it easy to be ourselves, even in front of the camera. Our photo session is a great memory and the gorgeous Fine Art print hanging in our home brings a smile to my face - and a little tear to my eye - every time I look at it. Thank you Teri!" – Monica, Grand Rapids, MI
"These are beautiful! Thank you. I'm singularly impressed that you got this out of our runny nosed - frozen toes - cranky pants. They are wonderful!!!" – Kate, West Hollywood, CA
"HOLY COW, Teri! Once again your talent amazes me! How you got these shots with a non-sleepy newborn with a horrible rash and a 3 ½ year old with a 104 degree fever, I will never know!" – Sara, Los Angeles, CA
"I can't say it often enough: thank you so very much for your incredible work! The pictures are just purely and simply beautiful. We loved our session and are deeply impressed with your work and how you run your business. It is very special and unlike any other photographer I have ever worked with. Thank you for your patience and sweetness, it really was a pleasure to work with you." – Saskia, Grand Rapids, MI
"Thank you again for making our family photo experience an exceptional one. You do such excellent, careful work. The photos you captured of our girls and family are truly amazing and such treasures to us! We had so much FUN, too, and wanted you to know how it blossomed our family togetherness." – Allison, Grand Rapids, MI